Maine Bicycling Guide
Maine Mountain Bike Trails – Bicycling Information
Plan a Maine Biking Vacation. Maine Bicycle Trails Adventure and Opportunities are everywhere! The long Maine seacoast. The picturesque Maine mountains and lakes. All of this and more makes Maine a glorious place for a bike-riding vacation.
Whether you choose to take it slow and soak in the scenery or peddle hard and push yourself to the limit the ideal trail is waiting for you to discover it. Maine Living presents a selection of Maine biking trails, tips, and insider information about biking in Maine.
To feature your Maine business in Maine Living, contact us.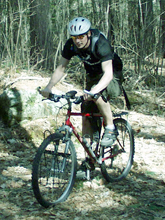 Exploring the Scenic Beauty of Maine: A Comprehensive Guide to Biking in the Pine Tree State
Biking enthusiasts and nature lovers alike can find their perfect adventure in the picturesque state of Maine. With its diverse landscapes, well-maintained bike trails, and charming coastal towns, Maine offers an unforgettable experience for cyclists of all levels. In this article, we will delve into the details of biking in Maine, including its top bike trails by region, bike paths, trail etiquette, planning a biking vacation, and explore the different types of bikes suitable for Maine's terrain.
Maine Bike Trails by Region:
Maine boasts an extensive network of bike trails, each offering unique scenery and challenges. Here are some notable bike trails categorized by region:
Southern Maine:
Eastern Trail: Stretching over 65 miles, this multi-use trail connects the coastal towns of Kittery and South Portland, passing through forests, wetlands, and scenic vistas.
Kennebunk Bridle Path: Located in Kennebunkport, this picturesque trail winds through wooded areas and provides stunning views of the Kennebunk River.
Mid-Coast Maine:
Rockland Harbor Trail: This 5.5-mile trail showcases breathtaking views of Rockland Harbor and winds through parks, marinas, and historic sites.
Belfast Rail Trail: Spanning 2.3 miles, this trail offers a pleasant journey along the Passagassawakeag River and provides access to downtown Belfast.
Downeast Maine:
Downeast Sunrise Trail: Covering 87 miles, this trail traverses eastern Maine, offering riders stunning views of forests, rivers, and coastal scenery.
Schoodic Peninsula Loop Road: Located in Acadia National Park, this 6-mile scenic loop is perfect for cyclists looking to explore the park's rugged coastline and breathtaking vistas.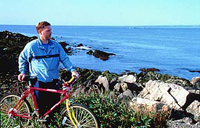 Maine Bike Paths and Bicycling Trail Etiquette:
Apart from the dedicated bike trails, Maine also provides numerous bike paths within cities and towns. These paths offer safe routes for commuting and recreational riding. When biking in Maine, it's essential to adhere to proper trail etiquette, including the following guidelines:
Share the Trail: Be courteous to pedestrians, runners, and other cyclists. Slow down and give them ample space when passing.
Stay Alert: Keep an eye out for trail markers, obstacles, or wildlife that may cross your path.
Respect Nature: Stay on designated paths and avoid damaging vegetation or disturbing wildlife.
Pack Out Your Trash: Help keep the trails clean by carrying out any litter or waste.
Observe Local Regulations: Familiarize yourself with any specific rules or restrictions for each trail or park you visit.
Planning a Maine Bicycling Vacation:
Planning a bicycling vacation in Maine requires careful consideration of the region, weather, and trail difficulty. Here are some key tips to ensure an enjoyable trip:
Research and Choose the Right Region: Determine which part of Maine offers the landscapes and trails that align with your preferences and skill level.
Check Weather Conditions: Maine's weather can be unpredictable, so plan accordingly and pack appropriate gear for varying conditions.
Plan Your Route: Research bike-friendly accommodations, rest stops, and attractions along your chosen route.
Rent or Bring Your Bike: If you're traveling from afar, consider renting a bike from local shops or bringing your own.
Be Prepared: Carry essential tools, spare parts, and first-aid supplies. Also, ensure your bike is well-maintained before your trip.
Be Careful: It may seem like you are biking on a back road in the middle of nowhere when a speeding vehicle whizzes by. Always use caution and be aware of your surroundings at all times.
Top Mountain Bikes, Road Bicycles, and Electric Bikes:
Choosing the right bike for your Maine adventure can greatly enhance your experience. Here are some recommendations for each category:
Mountain Bikes: Ideal for tackling off-road trails and rugged terrains, mountain bikes like the Specialized Stumpjumper or Trek Fuel EX offer durability, suspension, and excellent maneuverability.
Road Bicycles: If you prefer smooth, paved roads and longer distances, road bikes like the Cannondale SuperSix Evo or Trek Domane SL are designed for speed, efficiency, and comfort.
Electric Bikes: For those seeking an extra boost or assistance on hilly terrain, electric bikes like the RadRover or Specialized Turbo Vado provide pedal-assisted power, extending your range and making longer rides more accessible.
Biking in Maine offers a remarkable way to experience the state's natural beauty and charm. Whether you're exploring coastal towns, riding through dense forests, or admiring scenic vistas, Maine's bike trails cater to every cyclist's taste. By following proper trail etiquette, planning your trip meticulously, and choosing the right bike for your adventure, you can make the most of your biking vacation in the Pine Tree State. Bookmark MELIVING.com at https://meliving.com/biking/ for further Maine biking updates, additional resources, and more information about biking in Maine.
Aroostook ME Biking
Fort Kent, Houlton, Presque Isle
Downeast & Acadia ME Biking
Bar Harbor, Blue Hill, Deer Isle, Eastport, Lubec, Cherryfield, Machias
Katahdin & Moosehead ME Biking
Bangor, Brewer, Greenville, Lincoln, Millinocket, Orono
Kennebec & Moose River ME
Biking Augusta, Skowhegan, Waterville, The Forks
Lakes & Mountains ME Biking
Auburn, Lewiston, Norway, Bethel, Farmington, Naples
Midcoast ME Biking
Bath, Boothbay Harbor, Camden, Rockland, Brunswick, Belfast, Searsport
Greater Portland ME Biking
Portland, Freeport, Yarmouth, Westbrook, Cape Elizabeth
South Coastal Maine Biking
Biddeford, Kennebunk, Kittery, Ogunquit, Old Orchard Beach, Saco, Wells, York
SHOP BICYCLE SALE

| Photo | Title | Price | Buy |
| --- | --- | --- | --- |
| | Mongoose Argus Trail Adult Fat Tire Mountain Bike, 26-Inch Wheels, 19-Inch Aluminum Hardtail Frame, Mechanical Disc Brakes, 2x8 Drivetrain, Rapid Fire Shifters, Green, Large Frame | $787.28 | On Sale Now |
| | Mongoose Impasse Mens Mountain Bike, 29-Inch Wheels, Aluminum Frame, Twist Shifters, 21-Speed Rear Deraileur, Front and Rear Disc Brakes, Silver | $510.44 | On Sale Now |
| | Mongoose Salvo Trail Adult Mountain Bike, 29-inch Wheels, 18-Speed Trigger Shifters, Lightweight Aluminum Medium Frame, Disc Brakes, Orange | $1,190.25 | On Sale Now |
| | Mongoose Argus Sport Adult Fat Tire Mountain Bike, 26-inch Wheels, Tetonic T2 Aluminum Frame, Hydraulic Disc Brakes, Large Frame, Black | $1,149.99 | On Sale Now |
| | Schwinn Traxion Mountain Bike, Full Dual Suspension, 29-Inch Wheels , Blue/grey | $669.05 | On Sale Now |
| | Mongoose Dolomite Mens Fat Tire Mountain Bike, 26-inch Wheels, 4-Inch Wide Knobby Tires, 7-Speed, Steel Frame, Front and Rear Brakes, Navy Blue | $339.99 | On Sale Now |
| | Schwinn High Timber ALX Youth/Adult Mountain Bike, Aluminum Frame and Disc Brakes, 24-Inch Wheels, 21-Speed, Orange | $395.68 | On Sale Now |
| | Schwinn Phocus 1600 Drop Bar Adult Road Bicycle, 53cm/Large Alluminum Step-Over Frame, Carbon Fiber Fork, 16-Speed Drivetrain, 700c Wheels, Black | $749.66 | On Sale Now |
| | Schwinn GTX 2.0 Comfort Adult Hybrid Bike, Dual Sport Bicycle, 17-Inch Aluminum Frame, 21-Speed Trigger Shifters, Light Blue | $549.99 | On Sale Now |
| | Giro Regime Mens Road Cycling Shoes - White (2023), 45 | $239.95 | On Sale Now |
| | Schwinn Phocus 1600 Drop Bar Adult Road Bicycle, 53cm/Large Alluminum Step-Over Frame, Carbon Fiber Fork, 16-Speed Drivetrain, 700c Wheels, Black | $749.66 | On Sale Now |
| | Tommaso Sentiero Sport Performance Aluminum Gravel Bike Shimano Claris 24 Speeds Road Bicycle Men Road Bikes For Men Bike Men Women Sport Bike Speed Bike Racing Bike Adult Bike City Bike - Medium 56cm | $844.99 | On Sale Now |
| | Hiland Road Bike 700c Racing Bike City Commuter Bicycle with 14 Speeds Drivetrain 60cm Black | $369.99 | On Sale Now |
| | Schwinn Sporterra Adventure Adult Gravel Bike, 14 Speeds, 700c Wheels, Light Weight Aluminum Frame, Black | $662.31 | On Sale Now |
| | SAVADECK Carbon Road Bike, Windwar5.0 Carbon Fiber Frame 700C Racing Bicycle with Shimano 105 40 Speed Groupset Ultra-Light Bicycle(Red 52cm) | $1,499.00 | On Sale Now |
| | Schwinn Fastback Carbon Road Bike, Fastback AL105, 51cm/Medium Frame,Grey | $1,489.53 | On Sale Now |
| | SAVADECK Carbon Fiber Road Bike, Carbon Fiber Frame 700C Racing Bicycle with Shimano Sora 18 Speed Groupset Ultra-Light Bicycle for Men or Women (Black Grey, 54cm) | $1,199.00 | On Sale Now |
| | Hearts Bio Carbon Frame Road Bike Model H – Carbon Fiber Racing Bicycle with SORA 18 Speed Derailleur System (48 : Rider Height 5'2"~5'4") | $1,479.99 | On Sale Now |
| | SAVADECK Carbon Road Bike,HERD6.0 T800 Carbon Fiber 700C Road Bicycle with Shimano 105 22 Speed Groupset Ultra-Light Carbon Wheelset Seatpost Fork Bicycle (Black Reddish, 51cm) | $1,859.00 | On Sale Now |
| | KABON Carbon Road Bike, 700C Carbon Fiber Frame Road Bike with Shimano 105 22 Speed Disc Brake Racing Bicycle for Men and Women | $1,499.00 | On Sale Now |
Pet Friendly Lodging | Personals
Maine Weddings | Visit Maine Towns
Free World Mall

Country Weddings | New England Recipes
Maine Inns | Red Sox Gifts | Travel Destinations