Maine Breweries & Brew Pubs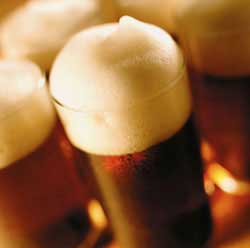 The great state of Maine is a great state for beer lovers. Mainers love great beer and fortunately, Maine is home to amazing breweries and brewpubs. A Maine Beer Tour is a tasty way to visit Maine. We'll help you by suggesting some of Maine's top-selling and highest-rated beer makers.
Maine Brewers now offer a wide of locally crafted beers, ales, pilsners, IPAs, and more than just a few surprises.
There are more than 150 active, and licensed breweries in Maine crafting more than 100 different brews. The use of local hops is on the rise with the Hop Yard in Gorham and Aroostook Hops in Westfield providing local produce for Maine beer makers.
Ask us about planning a Maine vacation or share Maine business news and reviews. To feature your Maine brewery or brewpub, contact us.
Maine Breweries & Brew Pubs
A selection of suggested Maine Breweries.
GFB Scottish Pub
32 Old Orchard Street
Old Orchard Beach, ME 04064
207-934-8432
A great beach deserves a great "beach pub" – Old Orchard's only brewpub serves up local brews, food, and fun.
Allagash Brewing Company
50 Industrial Way
Portland, ME 04103
800-330-5385
To take a tour, book it online to ensure your spot is saved. You can book online here: http://www.allagash.com/visit/#tours
Sebago Brewing Company
616 MAIN ST
Gorham, ME 04038
207-856-2537
sebagobrewing.com
Sebago Brewing is known for Frye's Leap IPA, an American-style IPA. Runabout Red is a malty, sweet, favorite. Portland, Kennebunk, Gorham locations.
Maine Beer Company
525 US Route 1
Freeport, ME 04032
207-221-5711
mainebeercompany.com
Hoppy American Ales a specialty
Shipyard Brewing Company
86 Newbury Street
Portland, ME 04101
shipyard.com
1994 by Fred Forsley and Master Brewer Alan Pugsley. Portland brewery and at Federal Jack's Brew Pub in Kennebunk Harbor.
Maine Brewers Guild
PO Box 2817
South Portland, ME 04116
The Maine Brewers Guild provides information about beer making and Maine brewers and suppliers. Visit their website for more information.
mainebrewersguild.org
Bissell Brothers Brewing Co.
4 Thompsons Pt Ste 108-109
Portland, Maine, 04102-2633
207- 279-0346
bissellbrothers.com
Beer to go.
Tributary Brewing Company
10 Shapleigh Rd
Kittery, Maine, 03904
207- 703-0093
tributarybrewingcompany.com
SHOP 24/7 at FREEWORLDMALL

Pet Friendly Lodging | Personals
Maine Weddings | Visit Maine Towns
Some Brewing Company
1 York Street
York
, ME 03909 207-351-8162 somebrewingco.com South Coast Maine Craft brewery and tasting room.  
Beer Mugs
Beer Glasses
New England Living Magazine | New England Brew Pubs
Free World Mall

Country Weddings | New England Recipes
Maine Inns | Red Sox Gifts | Travel Destinations